---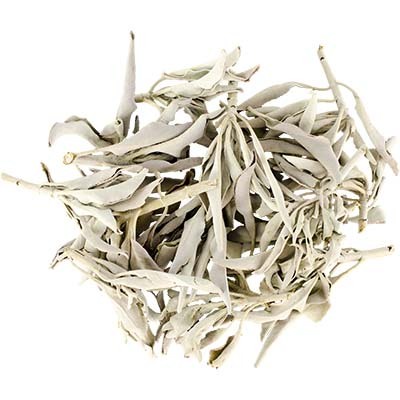 White Sage Smudge Loose
---
Smudging – What does it do?
Smudging a space with traditional Native medicines will clear out of balance energy and restore it to order. You can smudge for any space or your body. As the smoke rises, our prayers rise to the Spirit World where the Grandfathers and our Creator reside. Negative energy, feelings, and emotions are lifted away. It is also used for healing of mind, body and spirit, as well as balancing energies. There are many reasons you would want to smudge, some include: clearing away stagnant energy in a home you have just moved into, leaving old relationships behind and being able to move onto new ones, celebrating at different times of the year on holidays or events like a full or new moon, daily to help great the day with confidence and energy, helping to get good restful sleep, removing stress, and feeling more centered and protected to name a few.
How do I smudge?
Always begin smudging with positive intent, focusing on what you want to accomplish rather than what you don't want. Burn the "medicines" – each having a specific purpose (see listed medicines and what they are best used for). You can burn the medicines in an abalone shell or a fire proof dish – traditionally natural objects were used as part of the ceremony, hence the use of a shell and feather.
Use a feather or an item to waft the smoke around the space, include all windows and doors.
Types of Smudge/Herbs:
Sage – brings clarity / clearing, removes negative energy.
Sweet Grass – blessing space, balances out after clearing with sage for example.
Cedar – purification and attract positive energy, and balance.
When do I smudge?
After an event that causes energy to be out of balance. Or when you notice that your space is not in balance anymore (after smudging). When things start to occur that are not in alignment of what you desire.  There is no set time unless you follow certain dates in the year that you smudge by, follow how the energy in your space is "treating you".
References:
·        The Smudge and Blessings Book – Inspirational Rituals to Cleanse and Heal, Jane Alexander
·        http://www.ammsa.com/node/12407
Website: www.friendsandgems.com   join our newsletter to stay informed on workshops, sales and events we are attending and supporting! (enter your email address and click the "Subscribe" button on our Website main page)
Facebook – lots of resources, pictures and information on crystals found here!   www.facebook.com/friendsandgemscalgary
Instagram –
follow us @friendsandgems